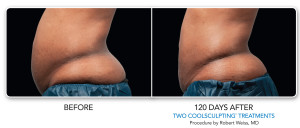 One of the common aesthetic concerns for both women and men is the accumulation of unwanted fat deposits in specific areas of the body. While liposuction surgery is an established procedure to deal with this condition, many people want to choose non-surgical treatment options to reduce fat pockets. For all such patients, CoolSculpting can usually prove to be an excellent med spa treatment designed to reduce fat and enhance body contours in a completely non-invasive manner.
Some of the common areas where CoolSculpting can be used to reduce fat deposits include the abdomen, thighs, hips, love handles, saddle bags, back, upper arms, neck, knees and calves. The procedure is ideal for busy mothers and working people who want to choose fat reduction treatments that do not involve any significant downtime or risk of complications. Sky Balance medical spa provides CoolSculpting to patients in Schaumburg, Chicago, IL, and surrounding communities.
Revolutionary Cooling Technique
Most non-surgical fat reduction procedures involve targeted delivery of heat through lasers, radio frequency, ultrasound or other techniques. On the other hand, CoolSculpting is a unique procedure that involves an innovative cooling process to freeze the unwanted fat cells. Fat cells respond quickly to the targeted exposure to cold temperature, get isolated and frozen, and eventually die. The disintegrated cells then get removed from the body through its natural metabolic process.
CoolSculpting cooling technique has been developed by Harvard scientists. The procedure has received the FDA's clearance. The biggest advantage of CoolSculpting med spa procedure is that it removes the stubborn fat cells without any incisions, cuts or needles, and does not even involve aggressive lasers or other heat-based solutions.
Advantages
A growing number of women and men now prefer CoolSculpting over other techniques to enhance their body contours without surgery. Some of the key advantages of CoolSculpting include the following:
It can achieve up to 20 percent reduction of fat in the targeted fat pockets of the body.
The procedure is completely safe with no side effects.
The procedure can be performed in-office, with a single treatment session lasting about one hour.
Virtually no pain or discomfort is involved.
No anesthesia is needed to perform CoolSculpting.
Fat removal is permanent in the treated areas.
No specific downtime is involved.
Easy scheduling options are usually available.
Sky Balance medical spa receives patients from Schaumburg, Chicago, IL, and nearby areas for CoolSculpting and various other procedures.
Customization
Best satisfaction levels in any aesthetic procedure such as CoolSculpting can be achieved when the treatment provider customizes the procedure according to the patient's specific anatomical and aesthetic needs. Sky Balance does not follow a cookie cutter approach, which can produce the best outcomes or meet the patient's expectations in most cases.
At Sky Balance, the extent of treatable area and the number of areas will be determined in close consultation with the patient. Single or multiple treatment sessions will be planned accordingly to achieve high satisfaction levels for the patient. Full results will be established in about two to four months with CoolSculpting.
For more information about the Medical Spa procedures and treatments performed by doctors Sameer Naseeruddin, MD ABVLM ABIM and Maggie Pilat Rzeszuto, ND contact SkyBalance Med Spa to schedule an appointment at 847.895.8180 or click here. Helping patients in and around the Chicago area.