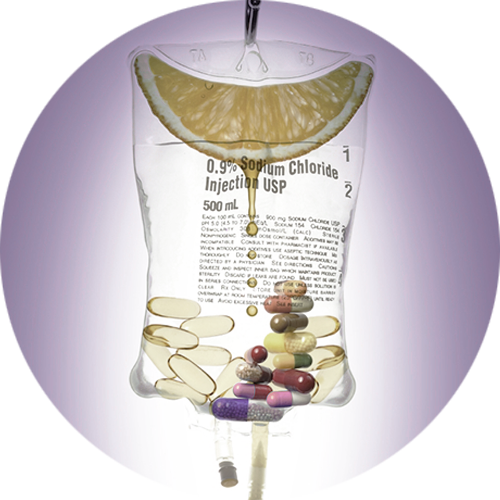 I.V. Nutrient Therapy
IV Nutrient Therapy is the process of introducing vitamins, minerals and other nutrients directly into the bloodstream via the venous system. At Skybalance, we offer several different types of IV therapies that are specifically customized to meet your unique needs. You will meet with our trained physician before beginning an IV treatment regimen.
Why IV Nutrient Therapy?
IV nutrient therapy delivers vitamins and nutrients that are better absorbed that oral supplementation because nutrients are introduced directly into the bloodstream, bypassing the GI system. This results in faster outcomes, and higher attainable doses. This is especially beneficial for people with malabsorption conditions such as IBS, IBD, gastritis and ulcers. IV nutrient therapy is also beneficial for boosting immune function, wound healing, hydration, many chronic conditions, acute sickness, and to promote overall wellbeing.
Are there any contraindications to Glutathione IV therapy?
While IV Nutrient Therapy is extremely safe when prescribed appropriately, it is contraindicated in people with kidney and cardiovascular disease, high blood pressure, and those with known allergies to any of the IV's constituents. There is a very rare possibility of an allergic reaction to a nutrient found in the IV. For this reason, a comprehensive history, and intake are performed before beginning treatment. Individual results vary, and are not guaranteed.
IV Therapy Can Be Useful For:
Energy and Athletic Performance
Chronic Fatigue and Stress
Nutrient Deficiencies
Digestive Problems
Skin Conditions
Colds and Flu
Dehydration
Headaches
Anti-Aging
Vitamin C
Contact SkyBalance Med Spa to schedule an appointment today at 847.895.8180 or click here. Ask about specials and available package deals. *Pricing is subject to change. Individual results vary, and are not guaranteed .
Schedule Your Appointment Today
We provide state-of-the-art treatments and services to make your health and aesthetic goals a reality. As a team, it is our priority to help you achieve your dreams.
We offer a complimentary consultation for all of our services.

Contact Us for a Consultation
Summary

Aggregate Rating
3 based on votes
Brand Name
Skybalance Medical Spa
Product Name
IV Nutrient Therapy