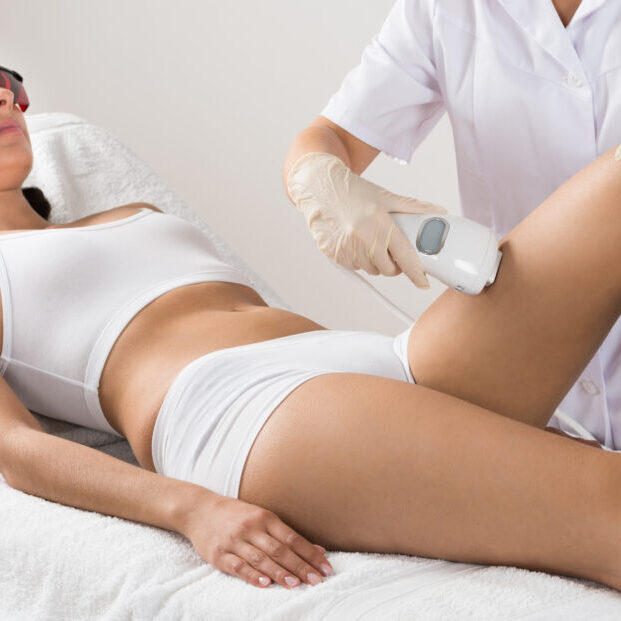 Laser Hair Removal
At Skypoint vein and laser our laser handpiece encompasses a large rectangular window emitting broad spectrum light that is applied to the surface of the skin. The energy travels harmlessly through the epidermis and dermis until it strikes the hair follicle. The dark-colored melanin absorbs the light and rises slowly in temperature, destroying the hair-producing cells surrounding the follicle. Because the heat is not sustained, however, no damage occurs outside the follicle area.
We offer our 2 ways of applying this treatment: IN-Motion™ technology – virtually pain-free hair removal without the use of anesthesia or numbing gels. The breakthrough, revolutionary technology has been described as one of the most comfortable hair removal options available. Standard Hair Removal Application- this may require numbing gel if the patients' area(s) being treated are more sensitive.
This treatment may feel like a rubber band snap however patients who have heavier hair follicles may benefit more from this type of application. Most clients see results after the first few sessions. Effective laser hair removal requires a minimum 4-6 treatments to see complete hair removal. With dark skinned patients more LHR treatments may be required due to thickness of hair.
Laser hair removal is one of the most popular cosmetic procedures in the USA. Each client is consulted individually by their respective skin types and goals. Laser hair removal is a safe and effective means for permanent hair reduction typically done in sessions. Please schedule a complimentary consultation with one of our providers to see how we can best assess your needs. *
Face
Upper lip
Chin
Sides of face
Cheeks
Full face
Ears
Men's beard
Neck
Back of neck
Upper Torso
Shoulders
Under arms
Forearms
Upper arm
Full arm
Hands & fingers
Chest
Areola
Abdomen
Full back
Lower Extremity
Bikini line
Extended bikini
Brazilian
Buttocks
Lower leg
Upper leg
Full leg
Feet & toes
Contact Us for a Consultation
We provide state-of-the-art treatments and services to make your health and aesthetic goals a reality. As a team, it is our priority to help you achieve your dreams.
We offer a complimentary consultation for all of our services.

Summary

Aggregate Rating
no rating based on votes
Brand Name
Skybalance Medical Spa
Product Name
Laser Hair Removal