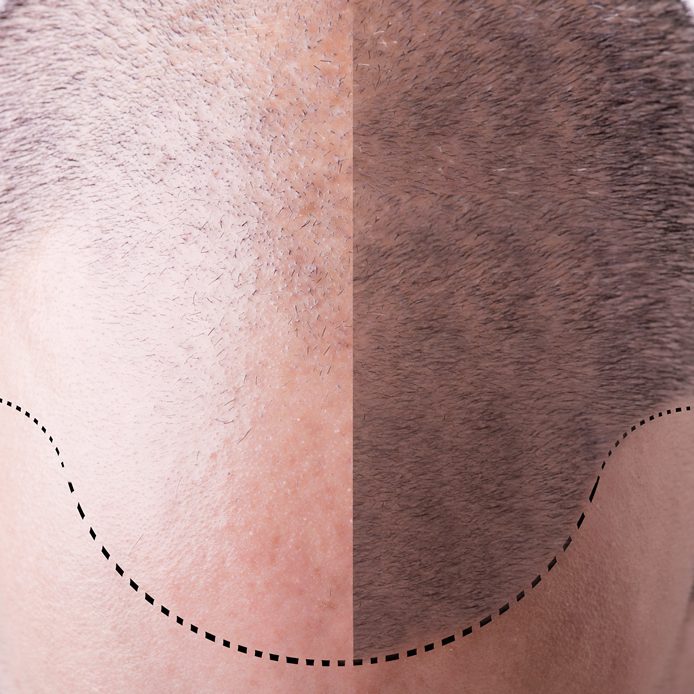 SkyBalance Medical Spa: Hair Restoration (Follicular Unit Extraction)
FUE Hair Restoration (Follicular Unit Extraction): Smarter, Better Hair Restoration!
FUE Hair Restoration (Follicular Unit Extraction) is a revolutionary, minimally-invasive method of hair restoration that enables both men and women to fight hair loss and naturally regrow their own lush, full hair. FUE (Follicular Unit Extraction) is not hair grafting surgery; it is a state-of-the-art device that enables hair transplantation without the need for major surgery and extended recovery times.
FUE involves gently removing hair grafts from a donor site on the back of the head (or other area of the body) and immediately collecting, sorting, counting, and storing each graft in a sterile, highly controlled environment. The grafts are then immediately implanted into tiny openings no larger than a pinprick. The rapid pace of the grafting process promotes the long-term survival of the grafts and improves their ability to regrow, while the highly-trained staff at SkyBalance Med Spa will use precise application techniques to assure the proper angle, density, and placement of the grafts for optimal, natural-looking results.
Schedule Your Appointment Today
Why is FUE Hair Restoration the smarter, better hair restoration choice?
Enables you to regrow your own thick, full, natural hair
No buzz cut required
Facilitates hair growth
Can be performed in the office
Does not require general anesthesia
Can be performed comfortably, requiring nothing more than a topical anesthetic and perhaps a mild sedative for relaxation
Requires almost no downtime or recovery time*
The average FUE Hair Restoration hair transplant procedures usually takes about five to six hours, depending on the scale of transplant required for optimal results.* Our staff will provide detailed recovery and care instructions, as well as guidance on what to expect. Most patients can resume their normal activities within a day or two after the procedure.* After a period of shedding, new hair growth should begin in about three months, with full growth of your own natural hair at 12 to 14 months.*
*Individual results vary, and are not guaranteed.
*
*Individual results vary, and are not guaranteed.
We provide state-of-the-art treatments and services to make your health and aesthetic goals a reality. As a team, it is our priority to help you achieve your dreams.
We offer a complimentary consultation for all of our services.

Contact Us for a Consultation
Summary

Aggregate Rating
5 based on votes
Brand Name
Skybalance Medical Center
Product Name
Hair Restoration