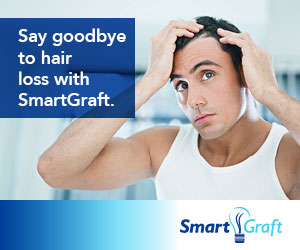 Many people are reluctant to choose hair transplant surgery, which is a significantly invasive procedure. Other recent follicular unit extraction (FUE) methods are not so effective and mostly in development phases. Now patients seeking hair restoration can benefit from an innovative and highly effective med spa procedure called SmartGraft, which does not involve surgery.
Sky Balance Med Spa, a state of the art facility for advanced non-surgical aesthetic and health supporting procedures, offers SmartGraft. The medical spa is led by experienced, board certified physician Dr. Sameer Naseeruddin along with a top team of medical and aesthetic professionals. Sky Balance provides SmartGraft to patients in Schaumburg, Chicago, IL, and surrounding communities.
Key Benefits
SmartGraft hair restoration procedure offers several benefits that differentiate it from other techniques:
SmartGraft technology is created by medical professionals.
The procedure is completely non-surgical.
It can be performed as an in-office procedure.
SmartGraft involves minimal downtime of one or two days.
Patients will not undergo any significant pain or discomfort.
Hair re-growth is natural and substantive.
Results are permanent with SmartGraft technique.
SmartGraft technology ensures that the procedure can be performed with very high precision. Extraction, counting, and separation of the hair grafts can be performed in a more precise and gentler manner. The selected grafts are stored in an environmentally controlled container until the time of implantation.
The procedure of sorting, counting, moistening of hair grafts, and their storage is completely automated. This allows the med spa treatment expert to cut down the procedure time by one-third. Implantation is performed more quickly, which improves the rate of success and allows for the re-growth of thicker, more natural, and permanent hair. Sky Balance receives patients from Schaumburg, Chicago, IL, and nearby areas for SmartGraft.
SmartGraft Procedure
The treatment provider may give a mild sedative prior to the procedure to ensure that the patient remains relaxed. A small area at the back of the head will be shaved discreetly, and a local anesthetic will be applied. The treatment expert will gently use the SmartGraft device to remove grafts from the donor site. The automated device will allow for swift collection, sorting, counting, and storing of the grafts in a sterile environment.
Once the graft collection process is completed, the expert will prepare the implantation area and apply local anesthetic. Small openings in the implantation site will created to place the grafts. How dense each graft is, and how the grafts are implanted will impact the final outcome of the procedure. The procedure can usually be completed in about five to six hours, including all stages. The patient will be able to return home the same day.
Recovery
Immediately after the SmartGraft procedure, the patient may be advised to recover and rest for a brief period at the treatment provider's office. Before the patient leaves, the provider will explain how to care for the newly transplanted hair. Most patients will be able to resume their regular activities or go back to work in one day. Vigorous exercises and sports (basketball, handball, and so on) may be resumed in about one week.
For more information about the Medical Spa procedures and treatments performed by doctors Sameer Naseeruddin, MD ABVLM ABIM and Alison Egeland, ND contact SkyBalance Med Spa to schedule an appointment at 847.895.8180 or click here. Helping patients in and around the Chicago area.