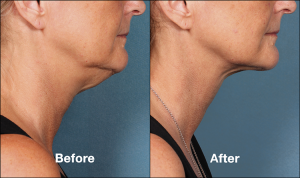 Accumulation of excess fat below the chin is a common concern among both men and women. It gives an unsightly appearance of a double chin, which is traditionally corrected with liposuction. However, the limitation is that many patients may not be prepared to undergo an elective surgery. For such patients, Kybella injection has emerged as a proven and innovative non-surgical solution to reduce chin fat.
Sky Balance Medical Spa, led by Dr. Sameer Naseeruddin, provides state of the art aesthetic solutions, including Kybella injectable treatment. Precise and targeted application of this treatment can produce solid outcomes and enhance neck and chin contours. Sky Balance med spa provides Kybella to patients in Schaumburg, Chicago, IL, and surrounding locations.
FDA Approved Treatment
The FDA gave its approval in 2015 for Kybella injectable treatment for the cosmetic reduction of moderate to severe chin fat deposits. With this approval, Kyebella has earned the distinction of being the first and only injectable procedure to receive the FDA's approval for reduction of submental fat. The popularity of Kybella has grown rapidly over a short period of time since the FDA approval.
A number of studies and clinical trials have been conducted to determine the safety and effectiveness of Kybella chin fat reduction injections. Consistently favorable patient feedback coupled with successful test results has encouraged medical spa treatment providers to recommend Kybella to their patients.
How does it Work?
Kybella injectable medication is based on deoxycholic acid, which is a naturally occurring substance in the body. This natural agent actively supports the fat absorption process in the body. When Kybella is injected into the fat tissue areas, it causes disruption of the fat cell membrane. Fat cells gradually disintegrate and get eliminated from the treated area.
It is important to choose a trained and qualified Kybella treatment provider. Wrong administration of the injections may result in harm to the surrounding healthy tissue. Sky Balance med spa receives patients from Schaumburg, Chicago, IL, and nearby areas for Kybella treatment.
Choosing a Treatment Provider
According to Amy G. Egan, M.D., M.P.H., deputy director of the Office of Drug Evaluation III in the FDA's Center for Drug Evaluation and Research, the Kybella treatment should only be administered by licensed healthcare professionals. The provider should educate the patient about the potential risks and realistic benefits of the drug. Egan says that the provider should let the patient know that Kybella is only approved for the treatment of submental fat, and not for other fat pockets in the body.
Injection Protocol
Kybella injections should be administered directly into the affected fat tissue area underneath the chin. A single treatment session will typically involve administration of multiple injections. A patient may receive up to six treatments, with each treatment session spaced at least a month apart.
At present, Kybella is available in single patient use vials. The drug must not be mixed or diluted with any other compounds. Results with Kybella injections will improve progressively with each treatment session, and the final outcome will emerge only by the end of the treatment.
For more information about the Medical Spa procedures and treatments performed by doctors Sameer Naseeruddin, MD ABVLM ABIM and Alison Egeland, ND contact SkyBalance Med Spa to schedule an appointment at 847.895.8180 or click here. Helping patients in and around the Chicago area.