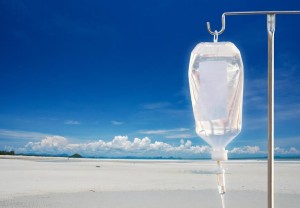 Hangovers can cause significant discomfort, and are typically associated with nausea and aches. One of the key contributing factors to this condition in a hangover is dehydration and deficiency of vital nutrients. Although some people may try to gain relief by drinking caffeinated beverages or high sugar sports drinks, but these remedies do very little to address the underlying causes.
IV hydration therapy along with vitamin additives and medications for nausea and aches can work together to eliminate the effects of a hangover, and enable a person to reclaim their day. Sky Balance med spa, led by Dr. Sameer Naseeruddin, provides expedited IV hydration therapy to treat hangover to patients in Schaumburg, Chicago, IL, and surrounding communities.
What does Hydration Therapy Include?
IV hydration therapy to treat hangovers may be customized to suit the individual needs and condition of a patient. In general, an IV hydration therapy will make use of a common, minimally invasive procedure to intravenously deliver fluids, medications, vitamins, and other nutrients directly into the bloodstream.
This innovative medical spa treatment can provide relief from a hangover and an accumulative effect of dehydration. It is important to ensure that IV hydration therapy is administered only by a trained and experienced therapist. The treatment is safe and produces highly effective outcomes to eliminate a hangover. In addition to fluids and medications, the IV treatment may include vitamin B12 and other B vitamins, vitamin C, and glutathione.
The treatment provider should note the specific condition and symptoms of the patient seeking IV hydration therapy to treat a hangover. Patients with certain health conditions may not qualify as candidates for IV hydration therapy. Dr. Sameer and his team will carefully assess a patient's candidacy before recommend IV hydration therapy med spa procedure.
Benefits
The patient will be able to get rid of the hangover with a simple and healthy IV hydration therapy. Severe headaches, nausea, and vomiting can be eliminated and total patient comfort is restored. The patient will gain quick relief, feel re-hydrated, and experience an improvement in appearance.
IV hydration therapy can re-energize the patient after a hangover. The entire procedure can be completed in about 30 to 45 minutes. No post-treatment discomfort or downtime is involved with this therapy.
Growing Acceptance
Physicians are increasingly recommending IV hydration therapy to treat hangovers. Dehydration caused by alcohol can pose risk to the patient's health, and IV therapy is the fastest way to re-hydrate the body and restore essential nutrients.
Patients who have benefitted from IV hydration therapy vouch for its results and are helping spread the word about this treatment. Sky Balance medical spa receives patients from Schaumburg, Chicago, IL, and nearby areas for this hangover therapy.
Precautions
IV hydration therapy should be tailored to the requirements of a patient. The therapist should use their presenting symptoms as a guide. The patient's vitals and medical history should be reviewed to ensure they are fit for the procedure and there are no contraindications. Patients with pre-existing heart or kidney disease, and those who are actively intoxicated may not receive this treatment.
For more information about the Medical Spa procedures and treatments performed by doctor Sameer Naseeruddin, MD ABVLM ABIM contact SkyBalance Med Spa to schedule an appointment at 847.895.8180 or click here. Helping patients in and around the Chicago area.