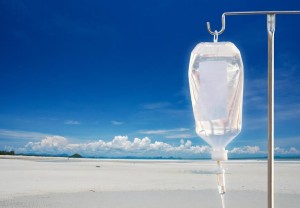 Research has shown that vitamin C is a robust antioxidant that has the power to boost immune function, improve resistance to infection, and provide protection against various illnesses. However, vitamin C has another unique disease fighting ability that can be channeled simply through an IV infusion treatment at a qualified med spa.
When administered in very high doses by intravenous (IV) infusions, vitamin C can reduce cancer cells. The fantastic aspect about this treatment is that unlike conventional chemotherapy drugs that are used to destroy cancer cells, vitamin C infusion is only selectively toxic and does not harm healthy cells even when delivered in high doses.
Sky Balance medical spa, led by Dr. Sameer Naseeruddin, provides vitamin C IV infusion therapy to patients in Schaumburg, Chicago, IL, and surrounding communities.   
How does it Work?
Vitamin C has natural properties to interact with iron and other metals in the body to create hydrogen peroxide. When hydrogen peroxide is produced in high concentrations, it damages the DNA and mitochondria of cancer cells, switches off their energy supply, and kills them outright. Studies have shown that this simple med spa IV treatment is effective against various types of cancer cells, including lung, brain, colon, breast, pancreatic, and ovarian.
Studies conducted on animals have shown that when human cancer cells are grafted into the animal and treated with high dose IV vitamin C infusions, it can decrease the size of the tumor by as much as 41 to 53 percent. These results are observed in diverse cancer types know for both their aggressive growth and limited treatment options. A number of patient case reports have also been published in medical journals to discuss the efficacy of vitamin C in destroying cancer cells.
Need for IV Administration
The level of vitamin C concentrations that are necessary in the bloodstream to eliminate cancer cells can only be achieved when it is administered intravenously. The body limits intestinal absorption of vitamin C to keep a tight control over it. For instance, if a patient takes 10 g (or 10,000 mg) of vitamin C orally at one time, they would only absorb about 500 mg.
However, when high doses are delivered through IV, it bypasses the body's control mechanism and the blood levels increase in a dose dependent manner. For instance, 10 g of IV delivery of vitamin C will raise blood levels 25 times higher than the same dose taken by mouth. As the doses get bigger, the difference can increase up to 70-fold.
Future Prospects of this Treatment
Vitamin C based IV treatment is not a cure-all for cancer. However, some researchers believe that this is one of the most encouraging lines of treatment that is emerging today. Vitamin C can also be used in combination with other conventional or alternative therapies, and it may even produce synergistic effects when given on the same days as chemotherapy.
IV vitamin C may also be administered along with a nutritional supplement program for better outcomes. Sky Balance medical spa receives patients from Schaumburg, Chicago, IL, and nearby areas for IV vitamin C therapy.
For more information about the Medical Spa procedures and treatments performed by doctor Sameer Naseeruddin, MD ABVLM ABIM contact SkyBalance Med Spa to schedule an appointment at 847.895.8180 or click here. Helping patients in and around the Chicago area.