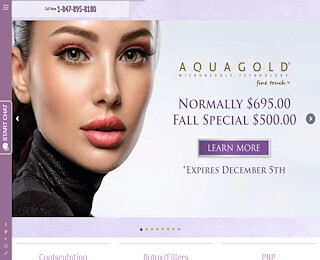 Intravenous nutrient therapy is the process of infusing vitamins and nutrients through your veins straight into your bloodstream to achieve total absorption for your body's benefit. This process of delivering medicine, vitamins, amino acids, and other beneficial nutrients into your body has proven to be much more effective than swallowing vitamins into your stomach, which seem not to achieve maximum absorption.
Although people used intravenous treatment in the past when they are immobile, it is now a top-of-the-line nutrient therapy method, following several celebrity endorsements, especially in the United States. Intravenous therapy can enhance athletic performance, correct skin conditions, cure dehydration, treat digestive problems, and stop headaches, colds, flu, etc.
Skybalance has remained the top Med Spa IV therapy in Schaumburg, IL. We provide top-notch services to all our clients irrespective of their individual needs. Here, we've provided answers to some of the frequently asked questions about Our IV nutrient therapy in Schaumburg, IL.
How much do IV infusions cost?
The financial costs of infusing intravenous nutrient treatment are quite clear in our medical spa. It can cost from $150 to $399 per treatment, depending on the therapy desired. This is also based on the staff's experience and level of expertise that will deliver these nutrients into your bloodstream for immediate impact.
Does insurance cover IV vitamin therapy?
Most of the time, intravenous vitamin therapy does not get insurance coverage. This is because claiming the insurance can be delayed as insurance companies do not want to pay for intravenous therapy. Delay to get the bills cleared can take up to 3 months after filing the claim. Insurance plans only cover home infusions. We will verify your home infusion therapy plan with your insurance provider, and after sorting the deductibles, we bill your insurance directly.
Does IV nutrient therapy work?
Intravenous nutrient therapy can be used to fight exhaustion and enhance the immune system. Although intravenous vitamin or nutrient therapy's legitimate effectiveness is not yet foolproof, intravenous infusion therapy is beneficial if you want to feel and look your best. These IV nutrient therapies are used by many to burn fat and also recover from a hangover, even though scientific evidence to back these claims are few.
How often should you get IV therapy?
This is based on many considerations, which vary from one person to another person. After being thoroughly accessed by the physician, the professional will determine your scheduled treatment plan, which will suit and complement your health. You may get treatment scheduled for every week and maybe so to maintain your health if your condition is chronic. If things get better and stabilized, you may decide to make the treatment every two or three weeks to achieve maximum overall health enhancement.
How long does IV therapy take?
IV therapy lasts between an average of 45 minutes and 1 hour. The IV therapy infuses through the veins amino acids, vitamins, minerals, and other beneficial fluids into the body at a regulated rate. The duration of the IV therapy is always dependent on the reason for the therapy.
Contact Skybalance Med Spa to schedule your first appointment and ask about our special: 847-895-8180.