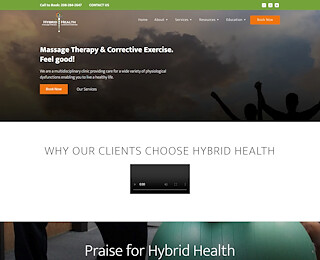 At Hybrid Health, we offer the best massage therapy in Boise, Idaho, at the lowest prices. We specialize in offering manual therapy, corrective exercise, myofascial release, sports massage, structural integration, and prenatal massage.
What is myofascial release massage?
Myofascial release is one of the many physical therapies that help treat myofascial pain syndrome. It is a chronic pain disorder that occurs as a result of sensitivity and tightness in an individual's myofascial tissues. These tissues are present all over the body, and pain can often rise at specific points within your myofascial tissues. Myofascial release therapy helps reduce pain, eases the tension and tightness in certain muscle groups, and offers deep relaxation.
During a myofascial massage, a therapist will gently massage the stiff or tightened areas with manual light pressure. This process is repeated several times in all the trigger points until the tension is released fully.
Massage therapy for stress relief
Massage therapy is said to reduce the stress hormones by 30%, and it increases the serotonin and dopamine levels by 28% and 21%. While most people work in busy jobs, they can often fail to set time aside for relaxation. This can severely compromise your physical and mental health over time and can affect your performance at work and in day to day activities.
Our massage therapy in Boise, Idaho, focuses on alleviating muscle tension and relieves muscle stiffness. It also heals the sore muscles and helps correct posture-related issues. It offers deep relaxation for the body, mind, and soul, and allows you to revitalize after a stressful week. It also promotes blood circulation, heals inflammation, and offers mental clarity. Massage therapy once a week, can optimize your physical and mental wellness.
Massage therapy for pain relief
Patients suffering from chronic pain-related illnesses are always on the lookout for alternative and drug-free treatments to avoid the unpleasant side-effects that come with prescription medications. Massage therapy is one of the popular and safe treatment options for patients suffering from a variety of pain issues. Some of the pain conditions that improve with massage therapy include:
Low-back pain – It is one of the most common neurological ailment that affects over 50% of the adult population. Regular massage therapy helps decrease pain, reduces disability, improves mobility, and lowers anxiety.
Fibromyalgia – Massage therapy plays an important role in helping patients deal with fibromyalgia. It improves the quality of life in patients suffering from this condition by relieving pain and by decreasing anxiety, stiffness, and fatigue.
Post-operative pain and arthritis – Patients may have to deal with a great deal of pain post-surgery, which will often get in the way of healing and delay recovery. Massage therapy helps promote blood circulation, reduces inflammation, and promotes healing. Regular massage therapy in the post-operative period can reduce hospital stays and aid in the safe and speedy recovery of patients.
Hybrid Health is a top-rated place for massage therapy in Boise, Idaho, with a team of skilled and experienced therapists. We help patients suffering from severe pains and aches overcome their health ailments and lead to an improved quality of life.