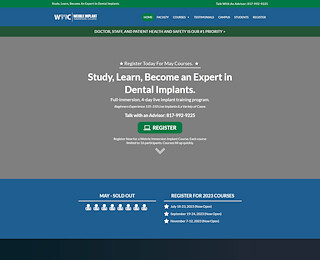 Best Live Implant Training at WIIC
When it comes to Live Implant Training, Wehrle Implant Immersion Course (WIIC) sets a standard that's hard to beat. With our meticulously crafted curriculum, state-of-the-art facilities, and hands-on surgical experiences, we guarantee a learning experience that is not only enriching but also career-altering. Let's delve into the multitude of reasons that make our Live Implant Training program a cut above the rest.
Expert Instructors with Decades of Experience
One of the pillars that hold up the educational edifice at WIIC is our roster of seasoned instructors. These aren't just professionals who know their subject matter–they live it every single day. They bring to the table years of surgical experience, practical insights, and a passion for teaching that is contagious. Their personalized approach ensures that each student receives attention tailored to their needs, resulting in a highly effective learning environment.
Cutting-Edge Facility for a Comprehensive Learning Experience
WIIC offers Live Implant Training in a state-of-the-art facility equipped with the latest technologies in dental implantology. Our simulation labs and surgical rooms mirror real-world dental settings, offering students an opportunity to train in an environment that they will eventually work in. The hands-on experience you gain here isn't confined to mannequins or simulators; you get to perform surgeries on live patients under expert supervision.
Curriculum Focused on Clinical Skill Development
Our Live Implant Training is designed to go beyond the theoretical aspects of implantology. The curriculum at WIIC is a perfect blend of academic knowledge and its practical application, honing your surgical skills at every step. Here, you're not just a student, but a surgeon-in-training. You'll get ample opportunities to engage in live surgeries, ensuring that you're fully prepared to meet the challenges of the real world.
Robust Post-Training Support
WIIC believes that learning doesn't stop when the course ends. That's why we offer an extensive range of post-training support services. Whether you require additional training sessions, follow-up meetings, or a mentor to guide you through the early days of your surgical practice, we have you covered. Our commitment to your success extends far beyond the classroom.
Networking and Professional Growth
WIIC's Live Implant Training is also a platform for networking and professional growth. Here, you meet like-minded professionals and experts in the field, opening doors to collaboration, job opportunities, and more. Moreover, our courses often feature guest lectures and workshops by leading professionals in the field, offering an invaluable networking platform that could significantly influence your career trajectory.
Focus on Patient-Centric Care
WIIC places strong emphasis on patient-centric care in our Live Implant Training programs. We teach you not just the technicalities of implant surgery, but also the soft skills needed to manage and communicate with patients. This holistic approach ensures that you become a well-rounded professional capable of delivering superior patient care.
Return on Investment
The Live Implant Training program at WIIC is an investment that pays dividends throughout your career. Our alumni attest to the substantial increase they've seen in both case acceptance and patient satisfaction. This ROI isn't just financial; it's about career fulfillment, skill acquisition, and setting a higher standard of care in dental implantology.
Your Future in Implantology Starts at WIIC
With its unparalleled expertise, top-notch facilities, and emphasis on comprehensive, hands-on training, WIIC offers the best Live Implant Training program designed to launch you into a successful career in implantology. We don't just prepare you for the industry; we set you up to redefine it. So if you're looking to invest in a program that promises not just education but transformation, it's time to get in touch with Wehrle Implant Immersion Course. Your future in implantology starts here.
Answering Your Questions
Why Choose Live Implant Training at WIIC Over Other Programs?
One question that often comes to mind is why choose Wehrle Implant Immersion Course for Live Implant Training as opposed to other programs out there? Well, WIIC offers an unparalleled balance of theory and hands-on practice, backed by a stellar faculty. In a market saturated with theoretical courses, WIIC shines by emphasizing a practical approach, thus enabling you to apply your skills instantly. We understand that true mastery comes from doing, not just knowing.
How Flexible is the Course Schedule at WIIC?
Flexibility is a concern for many professionals who want to balance their current practice with advanced training. WIIC's Live Implant Training offers a highly flexible schedule designed to fit the busy lives of dental professionals. Whether you're running a full-time practice or are in the initial stages of your career, our program is structured to accommodate your availability. This way, you can upgrade your skills without compromising on your existing responsibilities.
What Kind of Post-Training Support Does WIIC Offer?
The learning journey at WIIC doesn't conclude when the course ends. Post-training support is an important aspect that distinguishes us from other programs. Our mentors are available for ongoing consults and we even have an active alumni network that frequently engages in webinars, forums, and case discussions. This continued learning environment provides you a safety net as you implement your newfound skills in your practice.
Do I Get to Work on Real Patients?
Absolutely, and this is another differentiating factor for choosing WIIC's Live Implant Training. We believe that training on models and simulations has its limits. That's why our training involves performing procedures on real patients, offering the kind of experience and confidence that you won't find in any other program. You'll tackle actual cases under close supervision, helping you to understand not just the procedure but also post-operative care and patient management.
How Does Live Implant Training at WIIC Help in Career Advancement?
WIIC's Live Implant Training isn't just a course; it's a career catalyst. Dental professionals who have undergone our training program have consistently reported career advancements, increased patient influx, and even invitations to speak at industry events. This course equips you with the cutting-edge skills that are in high demand, making you a more competitive practitioner in a highly competitive market.
How Do I Register for a Live Implant Training Course at WIIC?
Registering for a Live Implant Training course at WIIC is a straightforward process, designed to be as hassle-free as possible. Once you've decided that our program meets your career aspirations, all you have to do is contact our admissions team. They will guide you through the application process, discuss financial plans, and answer any questions you might have. Once that's done, you're all set to embark on a transformative journey in dental implantology.
If this resonates with you and aligns with what you're looking for in a Live Implant Training program, don't hesitate. Reach out to us today and take the first step toward a brighter, more fulfilling career in implantology.